How to convert any Video into a Live photo on any iOS device.You probably know that only iPhone 6s and the new iPhones contain the live photo feature while the iPhones launched before the iPhone 6s doesn't support live photos feature which is an awful thing. And sometimes you probably realize that if a video can convert into a live photo then it will very awesome and also a beneficial thing.
Its benefit will be that you can also see the video as an image when is converted into a live photo and also use that image as a video by holding it or by 3d touch. If you want to convert any video into a live photo then you are now at the right place. Because today in this post I will tell you a simple and easy way by which you can convert any video into a live photo. And it doesn't matter that your iPhone supports live photo or not you can use this method on any iOS device old or new. So, without wasting time let's have a look at the Steps mentioned below.
Steps to convert any video into a live photo.
1. First of all, you have to download an app available for free on App Store and is named as "intoLive".
2. After downloading the app open it up and Allow access to photos and videos by clicking on the Allow option which will appear on the screen.
3. Then you will see all videos present on your iPhone in this app. Select any video which you want to convert into a live photo.
4. Now click on the arrow ">" sign which will appear in the top right corner of the screen.
5. After that, you will see an option named as "Save Live Photos" as shown in the image below. Tap on that option and your video will be saved into a live photo in Camera roll.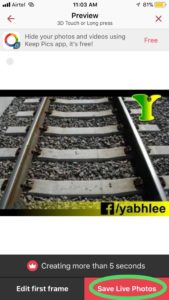 I hope you had liked our post. If you want such more tricks then keep using our site. Because we upload latest tricks regularly and daily.
What about Live Photos?
Live photos are really incredible and are a revolutionary feature of iOS devices. They are very different from gifs, photos, videos too. They are a mixture of both photos and videos. I am really a big fan of apple for making such an incredible feature which really show like time travel. Live photos in real words are really memories of our past which is a magical thing. I want to know that how many people love Live photos. According to me, all people love live photos who had saw them. You can tell us in the comment box that how many people near you mostly click live photos.
Don't forget to Share it with your Friends by clicking on the buttons below. By sharing this post on any social site or app by clicking on the buttons below your friends will be shocked that you had known such trick.